Have you done or are currently doing the following for your book marketing?
You post a million times in Facebook groups.
You create all the pretty pictures in Instagram.
You make pins for all the boards in Pinterest.
AND Still feel your books are ignored or overlooked.
You're not the only who has done all those things and feel the same way. Facebook and promo groups are bombarded every minute with different offers and authors. Standing out in the online market can be challenging.
Ready to take your book marketing offline? You need a PR kit for that! Get yours here!
One might think that if you're self published and your books are online that you can only do online book marketing.
There are lessons that traditional book marketing can teach the online book marketing world. Word of mouth recommendation might be old fashioned but it still works. Time to get out of the matrix and connect back into real life!
Here's 5 Unique places to market your book:
1. Library
The library is still a place where people can get their books. Inquire on how you can do a live reading for your book launch. People feel a certain celebrity status if they've interacted with an author. Don't miss out on this chance to know your readers.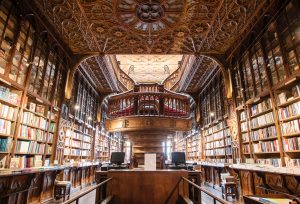 2. Bookstore
I love Amazon for instant access to books but I still like the feel of physical books. People go to bookstores to buy books! Why not take advantage of this chance? Arrange a book signing for your next book launch at your local book store.
Extra tip: Take you book signing event to the next level by doing a bookstore tour!
3. Chamber of Commerce
If you have a non fiction book for entrepreneurs or business owners, why not visit your local Chamber of Commerce. Organize a talk, support or participate in an event and be seen as an expert. Don't forget to also promote your book!
4. Local or Regional book conventions/events/festivals
This one is fun to do! I prefer local book fests because it gives me, as a reader attendee, the intimate feeling and not being rushed to interact with my authors. A bigger convention, on the other hand,  exposes you to a wider audience. As a bonus, you get to network with your fellow authors.
5. Non Government Organizations (NGO)/Non-profit organizations
Much like going to your local Chamber of Commerce, your book can be the "influencer" for a cause that you support. WW2 memoir type of books can support an event for your veterans. A book on being vegan can coordinate with healthy eating groups in your area. Collaboration with your NPO/NGO is a win-win situation. Promote something good and do something good. It's good karma all around!
It's a start to have an online presence. The internet helped expand our horizons and connectivity beyond the confines of our homes, communities, even our countries. But don't forget the people within our own boundaries. You can build connections there too.
And isn't book marketing all about building connections?
Don't be caught unprepared for your book marketing. Get your easy to customize PR kit templates here.